Date/Time
Date(s) - Wednesday, November 4, 2020
8:30 am - 12:00 pm
Location
Denman Wildlife Area
Categories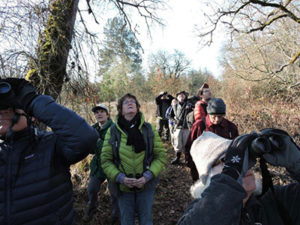 First Wednesday Bird Walks Have Been Canceled Due To the COVID-19 Pandemic
Leader: Murray Orr
These walks take place on the first Wednesday of each month. In this ongoing citizen science project, the numbers of different species observed by walk participants are entered in the Cornell Ornithological Laboratory's eBird database.
We will meet at 8:30 a.m. at the entrance off Agate Rd. between 1/4 and 1/2 mile past the fire station on the left side of the road. Coming out Table Rock Rd., turn right on Antelope Rd. and go to the light on Agate Rd. and turn left. The fire station will be on your left at the corner of Ave. G and Agate Rd. Go 1/4 to /12 mile past the fire station and the gate will be on your left. Coming out on Highway 62 to Antelope Rd., turn left and go to the next light.  Turn right and continue to the gate on Agate Rd.
Participants will need to purchase a ODFW Area Parking Permit at the ODWF Office, Sportsman Warehouse on Delta Waters and Highway 62 in Medford or at BiMart.