Field Trips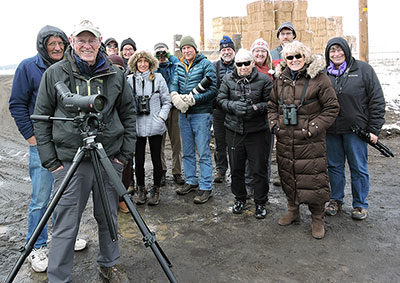 Guidelines: Field trips and bird walks are free* and open to the public. Beginners and newcomers are welcome. Dates and times are subject to change. Bring your own food and water. Binoculars and field guides are very useful. Carpooling is encouraged, and passengers should share expenses for fuel. Prepare and dress for the climate and the day's weather forecast. Wear sturdy shoes and expect some walking on most trips. Rogue Valley Audubon birding events will take place rain or shine except in case of dangerous conditions such as unsafe roads or extremely high winds. Cancellations or postponements will be posted on this website as early as possible. On the day of your field trip, check this site for updates. Contact the field trip leader if you have questions about a specific trip. Dogs are not allowed on bird walks or field trips.
*Some special fundraising field trips and birding events will have modest donation requests or fees.  This will be noted in the event description.
Field Trip Reports: Recent field trip and related reports appear below.
Upcoming Field Trips:


Field Trips You May Have Missed:
Reported by Bob Quaccia. The 19th Annual American Dipper count on Ashland Creek yielded a slightly above average total of 5 Dippers. A lucky number of 13 observers hugged both sides of the creek for [...]
Saturday, 30, 2017 Leader: Brandon Breen A beautiful, sunny, clear day. Poison oak was in full red fall color. Species Osprey (Pandion haliaetus) Cooper's Hawk (Accipiter cooperii) Red-shouldered Hawk (Buteo lineatus) Rock Pigeon (Feral Pigeon) [...]